every season is squash season
butternut bay bee
Hi everyone! Hope you're staying safe and healthy, and taking time for yourself in this chaotic world. Some of y'all have asked what I'm doing that isn't food-related, and the honest answer is… very little.
Things I Like Right Now
I'm currently reading Kristen Arnett's "Mostly Dead Things". It's her debut novel that topped bestseller lists for several weeks last year, but it's about taxidermy and not for the faint of heart. That being said, Arnett does a lovely job of capturing queerness and (what I imagine to be) Florida life. In the words of one of my friends, "it feels sticky and humid" — I couldn't agree more.

Since I have time, I'm also (finally) watching Futurama and y'all, I cannot believe I waited this long to start it. Maybe it's because I'm a tech nerd, or because I just like the animation style, but either way, it's great. Highly recommend.
Things I Don't Like Right Now
I tried watching Tiger King and honestly, I hated it. I stopped halfway through the first episode and I will not be returning. Cat culture might be queer culture but cat culture is not for me.

The lack of natural wine delivery near me. This is 100% a me problem and also I will get over it.
A Brief Bread Interlude
Moving into the food world, I recently discovered this Kitchn article that claims carbonated water is the best egg substitute. Bold claim but we'll see if it's true whenever I have flour again. Yes, you read that right, I still do not have all-purpose flour. Back in the good old days, when I did have flour, I baked a whole wheat sandwich loaf (combining equal parts of all-purpose and whole wheat flours) and it was very wheaty. I'd say it was a solid 6/10 but definitely needs work.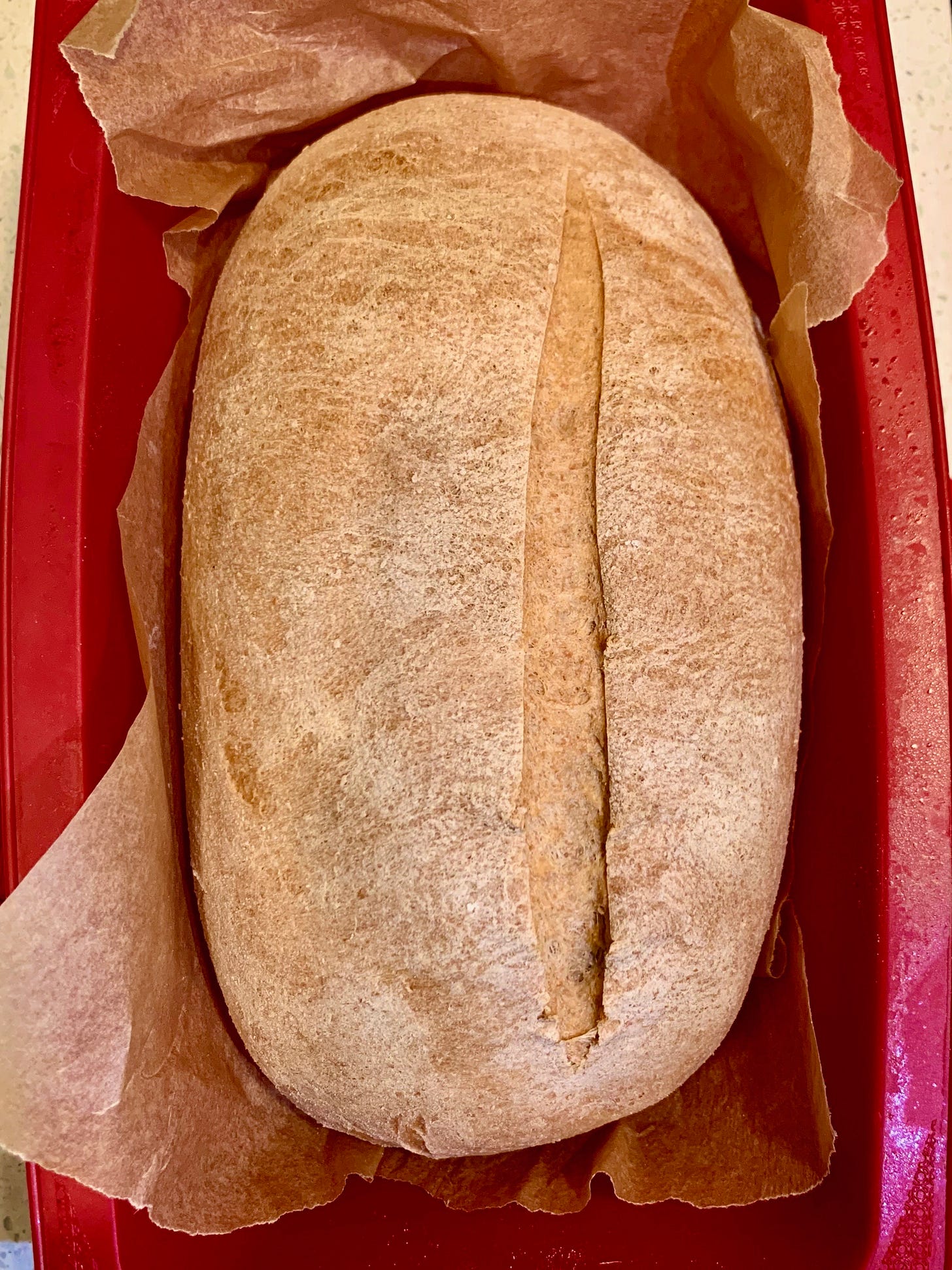 Look at this wheaty boy!! And that's with equal parts of all-purpose and whole wheat!! Imagine what would happen in a whole wheat only world.
A few days ago, I sent y'all a photo of a no-knead crusty white bread recipe from the New York Times. My leftover dough went (unshaped and unbaked) in the fridge to develop for a few days, and the resulting loaf was way more complex and beautiful. Easily a 9/10 — and I'm not an easy grader.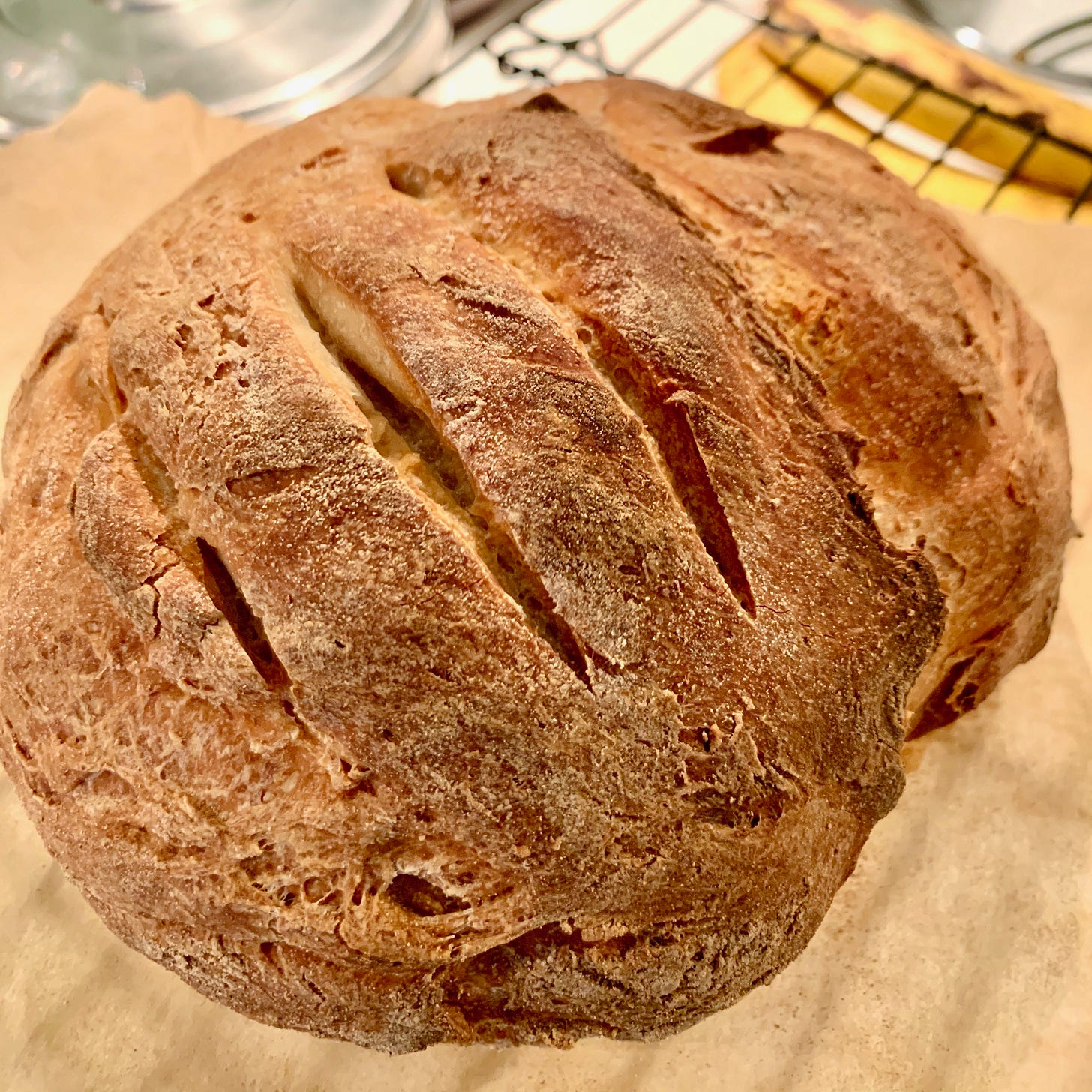 It's just so beautiful! Wow!
Anyway, Here's Some Curried Squash Soup
Today's gift to you all is a curried squash soup. If you have any kind of winter squash - whether it's butternut, acorn, delicata - anything will suffice. If you don't have squash, your local grocery store may have packaged butternut squash chunks in the freezer section. I can almost guarantee that despite the toilet paper and flour (yes, I really am talking about flour again) shortages, the frozen butternut squash will be there.
If you have a blender, feel free to roughly chop the carrot, onion, ginger, and garlic as they'll all be blended anyway. If you don't have a blender, I recommend making fairly small pieces (mincing the garlic, for example).
Curried Butternut Squash Soup
Ingredients
1 large butternut squash, skin-on and quartered
3 tbsp olive oil
2 tsp salt
1/2 large white onion, chopped
1 large carrot, chopped
2 cloves of garlic, minced
1/4 inch fresh ginger, grated
1/2 tsp turmeric
1/2 tsp paprika
1/2 tsp coriander
1/2 tsp cinnamon
3-4 cups of vegetable broth or water
1/2 cup milk, optional
1 tbsp apple cider vinegar
1 - 2 tbsp maple syrup
Directions
Preheat oven to 425 degrees Fahrenheit, and using 1 tbsp of olive oil, coat each piece of butternut squash. Using your fingers in this step makes it easier!

Place squash face down on a baking sheet lined with either aluminum foil or parchment paper and bake for 45 minutes. The squash will likely release some of its juice during this time. That's okay.

Remove squash from oven and allow to cool. This is important as the next step involves discarding the squash skin, and that's quite challenging if the squash is still hot.

Bonus — you'll know the squash is done when it looks like this roasty goodness:

In a large pot, heat remainder of oil (2 tbsp) over medium-high heat.

Once the oil is shimmering, begin to bloom the spices: add in turmeric, cinnamon, paprika, and coriander to bring out maximum flavor. Let them sit for about 30 seconds, then add onion and sauté until translucent. Add minced garlic and ginger and swirl around the pan until fragrant.

Using your fingers, squish the squash (lol) into the pot and add chopped carrot. If you'd rather leave it whole and toss it in that way, that's also fine provided you have a blender or potato masher at your disposal.

Continue to stir for about two minutes, then add in 3 - 4 cups of vegetable broth or water, milk (if using), the apple cider vinegar, and the maple syrup. Reduce the heat and allow to simmer for 30 minutes, stirring occasionally.

Using a blender (immersion works well for this), blend the soup until it's reached your desired consistency. Personally, I like my soup to be thicc but it's your call. Remember, you can always thin it out by adding broth or water. Add salt to taste and serve immediately.
Unfortunately, I am mostly an eater and not a photographer, so I don't have a picture of what the soup looked like in its final form. But I promise it was delicious. I was skeptical about the apple cider vinegar but it added some acidity that complemented the roasted squash really well.
That's all for this time! Please send me photos of your squash soups — I'd love to see them. Stay safe and healthy!
Ashni